One of my favorite things about working in a coworking space like BizHaus is stumbling across the fun and cool projects dreamed up by our members. We've seen drones and robots roaming the halls, virtual reality bikes, 3D printed sculptures — you name it. The latest "thing" to hit BizHaus are the growing towers that recently sprouted up in the parking lot of BizHaus El Segundo.
In case you're not familiar with them, growing towers are aeroponic vertical gardens that allow plants to be grown in very tight urban spaces. No large plots of land, no soil, and no chemicals needed. Just a little bit of water, nutrients, a few seedlings, some sun, and VOILA, a virtual urban farm growing on your porch, balcony, or (in our case) parking lot! Bok choy, anyone?!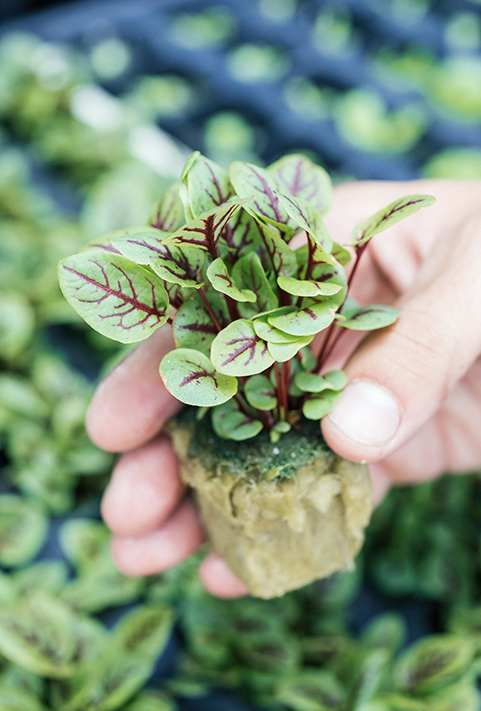 The BizHaus growing towers are part of a beta test being run by the Lettuce Grow team, whose mission is to reconnect people with their food. Co-founder Jacob Pechenik became passionate about this cause after spending some time on a farm in Austin, TX. Realizing how much our perception and awareness for fresh food changes once you actually see it grow – or "feel the magic", as he likes to put it – he embarked on his journey to provide an easy and fun way for people to grow their own, fresh food. And it's not only individuals that love harvesting their dinner right in front of their kitchen window – Lettuce Grow is running on-site farms at restaurants like Tender Greens and Otium as well.
Some of the vegetables and herbs being grown right here at BizHaus El Segundo include mint, red lettuce, cilantro, tomatoes, cucumbers, and of course, bok choy. It's like having a Whole Foods in our parking lot. Based on our initial experience, growing towers are a great way to easily access fresh, healthy and organic food. And thanks to our members Lettuce Grow, we'll soon be seeing growing towers popping up in restaurants and front yards all over L.A.!